If you are wanting laser vision correction or cataract eye surgery, or are in need of an ophthalmologist, our team of expertly trained eye doctors at Cullom & Farah will provide you with a customized eye care plan using the most up to date technology and surgical techniques, all with a personal touch.
R. Douglas Cullom, M.D.
Board-Certified Ophthalmologist LASIK Laser Vision Correction Laser Cataract Surgery
---
Dr. Douglas Cullom specializes in LASIK Laser Vision Correction and Laser-assisted Cataract Surgery. After receiving his medical degree from Vanderbilt University, he went on to complete his ophthalmology residency at the nationally recognized Wills Eye Hospital, where he published studies on laser surgery. After his residency, Dr. Cullom achieved the rank of Commander in the Department of Ophthalmology at the Naval Medical Center in Portsmouth, Virginia. As the primary refractive surgeon, he provided laser refractive surgery to the elite Navy SEAL units. Dr. Cullom has a unique understanding and appreciation for laser vision correction and the life-changing effect it has on his patients, having undergone LASIK himself. 
As the first Catalys laser surgeon in Virginia, Dr. Douglas Cullom has trained numerous surgeons on laser-assisted cataract surgery. He was also the first surgeon in Virginia to implant the Symfony extended range of vision intraocular implant. He has performed over 20,000 cataract surgeries and 10,000 LASIK  procedures.
Dr. Cullom is heavily involved in global blindness solutions through Surgical Eye Expeditions International and participates in several international mission trips each year performing hundreds of cataract surgeries for those in need - most recently in Colombia, El Salvador and Nicaragua. He speaks fluent Spanish and enjoys collaborating with local ophthalmologists in Latin America. He supports the Virginia Land Conservancy, Literacy for Life and is a host for international students with the Global Friends Program at William and Mary.
Anthony Farah, M.D.
Board-Certified Ophthalmologist LASIK Laser Vision Correction Laser Cataract Surgery
---
Anthony Farah, MD specializes in LASIK Laser Vision Correction, Laser-assisted Cataract Surgery, Advanced Intraocular Lenses, and General Ophthalmology
---
A native of Virginia, Dr. Farah received a four-year academic scholarship to the University of Virginia where he completed his pre-med studies and majored in Economics. He continued on to receive his medical degree from Jefferson Medical College in Philadelphia, PA, where he was awarded several academic scholarships and selected as a junior member to the prestigious medical honor society Alpha Omega Alpha (AOA), later serving as Vice President. Upon graduation, he received the Dean's Service Award as well as several professionalism awards in recognition of his service to the medical school community. Dr. Farah went on to complete his ophthalmology residency at the internationally recognized Wills Eye Hospital, the oldest eye hospital in the country and considered among the top training institutions in the nation. At Wills Eye, Dr. Farah was among the first residents to perform laser-assisted cataract surgery in the country. He also pursued his interest in cutting-edge cataract surgery technology and has presented his research at several national conferences including the American Society of Cataract and Refractive Surgery annual conference. To date, he has performed over 5,000 cataract and LASIK surgeries and greatly enjoys the collaboration that goes into successful eye surgery.
He is an active member of the American Academy of Ophthalmology (AAO) and the American Society of Cataract and Refractive Surgery (ASCRS) and is certified for the CATALYS Precision Laser System for Laser Cataract Surgery and the VISX Excimer Laser for Laser Vision Correction.
Dr. Farah resides in Williamsburg with his wife, an alumna of William & Mary, and their four children.
Natalia Diaz Torres, M.D.
Specializing in laser cataract surgery, advanced technology lenses, glaucoma management, and comprehensive ophthalmology
---
Dr. Natalia Diaz Torres is a comprehensive medical and surgical ophthalmologist who focuses on treating patients with numerous eye conditions, including cataracts, glaucoma, and diabetes. Born and raised in Puerto Rico, she obtained her medical degree at the University of Puerto Rico Medical School, where she graduated Summa Cum Laude. During her time in medical school, she excelled academically and was awarded with several honors, among them becoming a junior member of the prestigious Alpha Omega Alpha Society and receiving an NIH research fellowship at the National Eye Institute. After graduating medical school, she proceeded to complete her residency at the Georgetown University Hospital/Washington Hospital Center ophthalmology residency program in Washington, D.C., where she served as Chief Resident in her last year, and performed hundreds of procedures, including cataract and pterygium surgeries, minimally invasive glaucoma procedures, and laser surgery. Today, she is an active member of numerous professional societies, including the American Academy of Ophthalmology, the American Society of Cataract and Refractive Surgery, the Refractive Surgery Alliance Society, and Women in Ophthalmology.
Dr. Diaz Torres is excited to bring their experience and knowledge to the area, with hopes to continue providing advanced ophthalmologic care to patients in need. She is fully fluent in English and Spanish. In her spare time, she enjoys traveling to new places with her family, spending time outdoors, hosting dinner parties with friends, and trying out new restaurants.
Leana Long, M.D.
Board-Certified Ophthalmologist, Comprehensive Eye Care
---
Dr. Long is an experienced and compassionate eye physician and surgeon.  She received her baccalaureate degree with honors in neuroscience from Trinity College in Hartford, Connecticut.  She then worked as a researcher in Department of Molecular Neurobiology at Massachusetts General Hospital. Dr. Long went on to receive her medical degree from East Carolina University in Greenville, North Carolina, and then completed her internship at Carilion Hospital in Roanoke, Virginia. Her medical and surgical training in ophthalmology was at the University of Texas, San Antonio. She has received research grants from both the National Science Foundation and from the National Eye Institute. While practicing in Syracuse, New York, she held a faculty appointment at SUNY Upstate Medical University.  She is board certified in Ophthalmology and is an active fellow of the American Academy of Ophthalmology.
Dr. Long is committed to providing state of the art medical care in an ethical and caring manner. She enjoys helping her patients see better by providing them with comprehensive eye exams, as well as management of glaucoma, diabetic eye disease, macular degeneration, and dry eye syndrome. In addition to examinations, she performs laser surgery for specific eye diseases. Dr. Long was one of the first ophthalmologists on the peninsula to perform SLTs, a laser treatment for glaucoma. She has experience using Botox to treat medical conditions such as eyelid and facial spasms. She also offers professional eyelid treatments that include meibomian gland expression and MicroBelpharoExfoliation with BlephEx to help sore, inflamed eyelids and evaporative dry eye disease.
Outside of ophthalmology, Dr. Long enjoys spending time with her children, as well as cycling and hiking.
Matthew Reed, M.D.
Board-Certified Ophthalmologist, Retinal Surgeon
---
Dr. Matthew D. Reed is a Board Certified, fellowship-trained retinal surgeon. He specializes in the medical and surgical management of potentially blinding conditions of the retina and vitreous, and offers the latest techniques in the treatment of macular degeneration, diabetic retinopathy, and retinal detachment. Dr. Reed completed his residency training in Ophthalmology at the University of Medicine and Dentistry of New Jersey and received his fellowship training in retina at the prestigious University of Wisconsin.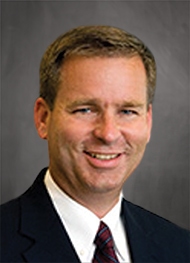 Gary Fredericksen, O.D., F.A.A.O.
Fellowship-Trained Optometrist, Comprehensive Eye Care
---
Dr. Gary W. Fredericksen comes from Boston, Massachusetts where he received his BS from Boston College, and his Doctorate in Optometry from the New England College of Optometry. Upon receiving his degree, he entered the United States Air Force as an Optometrist. Dr. Fredericksen served in the Air Force for 25 years, just recently retiring in 2006 at the rank of Colonel. His distinguished Air Force career took him both to many stateside locations and overseas. After a stint at the Air Forces Air Command and Staff College at Maxwell AFB, Montgomery, Alabama, Colonel Fredericksen served as Chief of Optometry and consultant for Air Combat Command at nearby Langley Air Force Base Virginia.
He finished his career as Chief of Optometry at the Air Forces 2nd largest Medical Center, Keesler AFB, Mississippi. His military decorations include Meritorious Service Medals, Outstanding Unit Awards, and a Humanitarian medal for his role in the Katrina hurricane disaster that devastated his home base in Biloxi, Mississippi. Throughout his career he has repeatedly set up clinical rotations for Optometry students to train and has been named adjunct clinical faculty at Southern, Indiana, and Pennsylvania Colleges of Optometry. Additionally, Dr. Fredericksen earned his fellowship in the American Academy of Optometry and is a clinical examiner for the National Board of Examiners in Optometry. Dr. Fredericksen is married to his wife Terri from St Louis, Missouri. They have two children who are college graduates, Holly and Abby.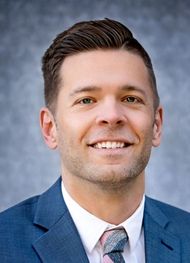 Derek Evans, O.D.
Board-Certified Optometrist, Comprehensive Eye Care
---
Dr. Derek Evans joins our practice after holding the role of clinical director of multiple refractive surgery centers across central and southeast Virginia. Prior to this experience, Dr. Evans worked in a multi-disciplinary ophthalmology setting with an emphasis on medical and surgical eye care. Dr. Evans' training includes pre/post-operative care of cataract, refractive, cornea, and glaucoma surgery, the diagnosis and management of anterior and posterior ocular diseases, and performing medical eye exams for glaucoma, diabetes, macular degeneration, and other eye diseases. Dr. Evans also has extensive experience in complex contact lens cases, fitting specialty contact lenses for patients with corneal ectatic conditions such as keratoconus, dry eye, and other difficult contact lens fittings.
Dr. Evans earned his Bachelor of Science degree in microbiology and immunology from Virginia Tech. He then attended the Southern California College of Optometry where he received his Doctorate of Optometry, graduating magna cum laude. A native Virginian, Dr. Evans grew up in Fairfax and resides in Williamsburg with his wife Tonia, his two children Carter and Eloise, and their two rescue dogs, Ike and Clementine.
---
---
Give us a call at (757) 345-3001 to schedule a consultation with one of our doctors at Cullom & Farah Eye & Laser Center.